Today, in this post, I have come up with 2 ghost barrier killer  Best mantras (spell), using which you can remove ghosts, many times there is a shadow of negative energy or by going to the place where it resides, the person gets affected by ghosts and somewhere else. Whenever the enemy leaves a ghost by getting someone to perform an action, he goes to a Tantrik (astrologer) and Aghori and gets such an action done, then the ghost starts to surprise.
So let's know in detail how to prove the ghost Obstacle Destroyer Best mantras and how to use it, let's discuss in detail about it,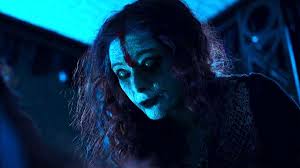 mantra
banaven ban beech aanand kand raghubeer lakhe siy sanmukh mahan hoy dheer mati dheer. tehi samay lashanan tahan aaye. poochhahi raam lashan bulaye . bole hari kathan karan tum bhaee. it aavat bahu vilamb lagaee . lashan bole gayoon doori pahara. dekheu tahan bhoot dal jhara . tah eko manush na dikhaye. nij aashram ko chhod paraye . vachan sun hari baan chalayu. bhage bhoot aanand giri bhayu. naam ke aganaheen bhoot nahin bhar raam ke naam se bhee samudr paar . aadesh shree raam seeta kee duhaee. sacha pind kaacha phure mantr eeshvarovaacha .
(no change in words of above mantra)
How to prove this mantra
By shaking off the above Best mantras (spell), the evil spirits will be destroyed. goes, This mantra is like  the arrow of Ram ji.
Chant Mantra 20 days before Vijay Dashami (Indian festival) 36 The effect of force goes away, it makes an effect. This Should start chanting 101 times everyday following the rules and regulations. Only then will you get success. Make sure to install the idol of Ram ji at the time of chanting.
Mantra
Om namo deep mohe deep jage
Pavan chale panic hale
Shakini chale dakini chale
Bhut chale prêt chale
Nau sau ninyanve nadi chale
Hanuman veer ki duhai
Meri bhakti guru ki shakti
Fure mantra ishwaro vacha!!
(no change in words of above mantra)
 How to prove this mantra
After proving this mantra in eclipse, then use mustard seeds.
Light an oil lamp and ask the patient to look at its flame. After this, while chanting this mantra, sitting behind him, dust the patient 21 times. All the obstacles of the past will be removed.
In this way, you can end the effect of evil spirits by using (ghost remover mantra) Best mantras.
also read this article
laxmi mantra for waelth and succsess