This mantra is so dangerous that by using it, your enemy gets destroyed, this Enemy Destroyer Hanuman (hanuman is god of india) mantra works very powerful and fast, when you are completely tired and there is no way left, then only use it. Should be done, if you use it wrongly then you will be attacked, if you use it wrongly it will backfire on the seeker himself, most of the Aghori and Tantrik (astrologer) people use Hanuman Mantra, the destroyer of enemies, and they have Gurmukhi (mantra or spell give by godfather)  meditation,
So let's know in detail how to prove Enemy Destroyer Hanuman mantra and how it is used, let's discuss in detail about it,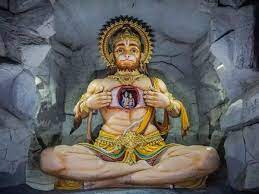 mantra
 "om hanuman veer namah. om namo veer, hanumat veer, shoor veer, dhay-dhay chalai veer. moothee bhar chalavai teer . moothee mar, kaleja kadhe. krodh karata, hiyara kadh. mera vairee, tere vash hovai. dharm kee duhaee. raaja ramachandr kee dohaee. mera vairee na pachhad marai to mata anjanee kee dohaee . "
(This is the ancient mantra of India, so there should be no change in its word.)
Method to prove the mantra
On the day of Holi, Diwali or Narak Chaturdashi (before diwali), go to Hanumanji's temple, take red nappy, fruits, flowers and sweets, if possible take five flour laddoos (types of sweet) and pray to Hanumanji, O Hanumanji Maharaj, this enemy of mine is troubling me a lot and I This work that I am doing is a legitimate work and it is up to you to complete this work. By doing this, chant the above mentioned mantra with red sandalwood garland.
During meditation, apply insense  and light a four faced lamp, offer sweet  to Hanumanji, serve Hanumanji as much as possible, if you do meditation with true heart and true spirit, then you will definitely get success in this meditation,
Method of Use
When you want to do this method, then go to Hanumanji's temple and take the permission of Hanumanji and say to him, O Hanumanji Maharaj, I want to do this method  today and what I am doing is for my good and this work of mine is justified. I am tired of the way, so I want to do this experiment, by saying this mantra on kedney bean  grain, throw it on the enemy, within 3 days, the work of the enemy will be over, this mantra is very powerful mantra,
In this way the seeker destroys  the Enemy Destroyer Hanuman mantra You can get rid of your enemy by using this method.
Also read
Shabar mantra for awaken goddess power
Best mantra for fortunes and wealth