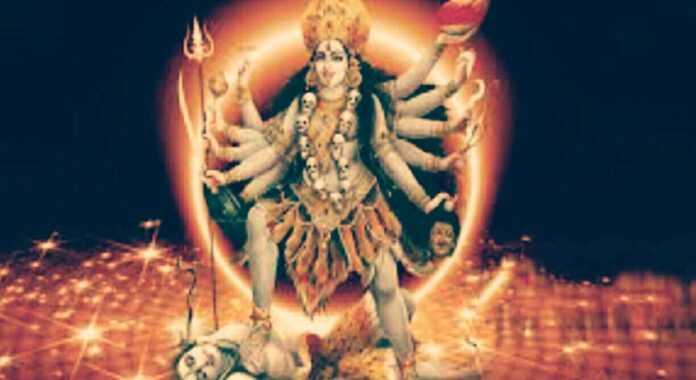 Mahakali meditation is  the first place in ten Mahavidyas (big spell or big genere of india), Mahakali meditation makes the seeker happy, healthy, and free from every worry, Mahakali's meditation is mostly done by Astrologer and Hermit.
Mahakali meditation is done in a gentle and vindictive way, if there is any obstacle in the gentle meditation of Mahakali, it does not have any adverse effect, but if there is any error or mistake in the vengeful meditation of Mahakali, its consequences will be on the seeker. has to suffer
secrets of mahakali
Chintamani Kali, 2. Sparshmani Kali, 3. Santatiprada Kali,
Siddhi Kali, 5. South Kali, 6. Kamkala Kali, 7. swan black
and 8. Guhay Kali.
Apart from this, Bhadra Kali, Smshaan Kali and Mahakali are worshipped.
Out of all these forms of Mahakali, the form of Dakshina Kali is gentle and fruitful.
How to do Mahakali meditation? The seeker will get the answer to that question inside this post.
mantra
Om kring kring kring hring hring hum hum mahakalike kring kring kring hring hring hum hum swaha!!
(This is the ancient mantra of India, so there should be no change in its word.)
How to prove this mantra
To perform Mahakali meditation, clean the meditation room  properly, sprinkle Ganga (ganga is holy river of india) water in the entire meditation room  and light fragrant incense sticks, start meditation on Sunday, keep the time of meditation only after 11 pm, keep a choki (protection mantra) in front of it. Give it and install a statue of Mahakali by laying red cloth on it.
Do 11 rosaries of the above mantra with the rosary of Black garland. Do Mahakali meditation for 21 days. meditation will be done with the same method every day, if you do this meditation under the guidance of a qualified godfather, you will get success as soon as possible.
Wreath:
Now offer flower garland to Bhagwati-
Padmang shankhaj puspadi shatpaurvichitram!!
Puspmalam praychhami gruhanam tvam sureswari!!
(This is the ancient mantra of India, so there should be no change in its word.)
O Bhagwati! With lotus, conch shell and many beautiful flowers
This garland made is dedicated, may you be happy.
Naivedh (food)
Decorate delicious food in a vessel and offer it to Bhagwati.
Sharkaraghrut sayukt!
Sayuktam madhuram swadu chottam!
Uphar samayukt naivedya pratigruhytaam!!
(This is the ancient mantra of India, so there should be no change in its word.)
Hey mother! Delicious food is presented for your pleasure, please accept it.
It takes time to accomplish any meditation, it is very difficult to achieve success in 2-3 days, therefore sadhak (seeker) should do meditation completely selflessly. Sometimes sadhak (seeker)  thinks that it has been 6-7 days but no Did not get the result, nothing will happen in such 6-7 days, if you want success, then you will have to work hard continuously and worship properly.
Mahakali is such a power that while doing meditation, she also shows different forms to destroy the meditation , so the sadhak should not let his mind wander, and when prove  is achieved, then Mahakali meditation should not be used. Never do it, if you use your achievement for someone's good work, then the world will remember you.
Also read
How I increase attraction power and mesmerism power
How I prove kamakhya by mantra
Most powerful mantra for body protection