Mantra of durga mata is a very powerful and sattvic (simple and effective) mantra, anyone can chant this mantra, with the accomplishment of this mantra, every wish of the seeker is fulfilled by Mother Durga,
If someone is physically ill, a student does not pay attention to studies, then this mantra is a panacea for him, by chanting this mantra, the environment of the house becomes pure, troubles go away from the house,
So let us learn in detail about how to chant this Mantra of durga mata and what are its rules and regulations.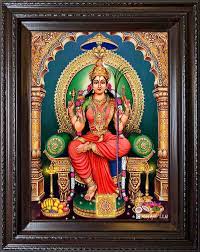 mantra
Sarv mangal mangalye
Shive sarvarth sandhike
Sharanye traymbake gauri
Narayani namostute!!
(This is the ancient mantra of India, so there should be no change in its word.)
 How to prove this mantra
In order to prove this mantra, one should start meditation on Sunday or Tuesday, otherwise there is no need for the seeker to prove this mantra, because the seeker will start seeing its effect only by chanting it.
This mantra is so powerful that with the effect of this mantra, all the sufferings of the seeker and his family will go away, this mantra proves to be very effective for the health of the body, if someone is sick for many years and is not being treated anywhere. Hey then this mantra proves to be a panacea for him.
When you sit to chant this mantra, then light an oil lamp and light a fragrant incense stick, then tell your wish to Mother Durga, then start chanting, chanting this mantra every day brings prosperity in business and employment. His anger gets completely calm, all the members of the house start living with love and the grace of Mother Durga remains on the seeker,
Any seeker who is chanting the Mantra of durga mata should not tell a lie.
also read