Many times due to the malefic effect of the house or lack of any thing, there is an obstacle in the marriage, it is the dream of every human being to get married and live a happy life, but it is never possible because of the malefic effect of the planet. There is an obstacle in the marriage due to problems like seven and a half years, today I have come to you with a mantra for early marriage, by achieving which you can remove all the obstacles in marriage.
The Shabar mantra (simple spell or mantra) I am giving here today is self-proven and fruitful, you can experience it yourself, the ancient Shabar mantra has a special feature in itself, only you have to awaken it, so let's know in detail soon Let's discuss in detail about how to prove the mantra of marriage, what are its rules and regulations,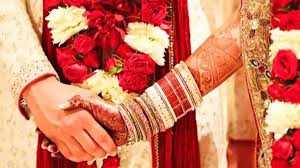 mantra
Dhurva gati siddhasan!
Muni baith kavdi sang!
Shighra vivah utpannam!
Jay mahakali jam!
Jay jay goraksh vikrali jam!!
(This is the ancient mantra of India, so there should be no change in its word.)
method of proving the mantra
On any auspicious occasion i.e. Diwali, Holi or during eclipse, 7 rounds of the above mentioned mantra with rudraksha rosary can prove the mantra and if you want to prove it on normal days, start the meditation from Sunday and do it daily 11 times. Do a rosary of the above mentioned mantra for a day, burn cow dung cakes and put Google incense(it is special incense for god) on it and light a lamp of pure cow's ghee(melted butter), if you do this for 11 days, the mantra will be proved.
The specialty of this mantra is that every obstacle that comes in marriage gets removed, the relationship of marriage also comes from front, in this way you can remove the obstacle that comes in marriage by proving the mantra of early marriage.
Also read
How I increase attraction power and mesmerism power
How to bewitched with cardamom