The one who eats even death is Mahakali, Mahakali is such a power that is capable of doing every work, it is worshiped in both vindictive and sattvic(simple) ways, no matter what kind of cracy, whatever black magic is done, Mahakali ends it in a jiffy. She gives, people who sit on the throne and run the court have Mahakali, Tantric (astrologer) people and Aghori people worship Mahakali. you can achieve,         
By attaining Mahakali, you can do every  cracy (magic) work and do every cracy work, the mantra and method I am giving here is Satvik (simple way), everyone can do it, so let's know in detail about Mahakali Shabar Mantra meditation. and about its accomplishment,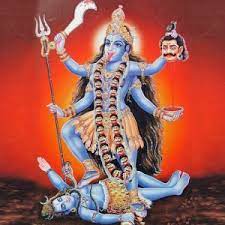 mantra
Jay ma kalo ki kaal
Kaali ma bhakshan karo
Jay durge jay chandi ma
Kaali banke bhakshan karo ma
Gurutva gurutva rakshayam kariyanti
Lambe lambe keshant
Sansar bharam utshanti
Dharm dharm ki jay
Meri aatma ki khichi dore
Aapko sau sau bar pukaru maa
Mere samast dukho haro ma
Satyam satyam din rat karu ma
Raksha karo ma jay jay jay maa
Iti siddham!!
(This is the ancient mantra of India, so there should be no change in its word.)
 How to prove this mantra
This meditation will last for one and a half month, the accomplishment of the mantra will be done in a secluded room, start the meditation from Sunday, recite one rosary of the above mentioned mantra three hours each, before doing the meditation, worship Lord Ganesha (ganesha is Indian god)  and recite one rosary of Lord Bholenath's mantra. Garland If there is no godfather, then garland your God, light a four-faced lamp during meditation and sprinkle other flowers, offer Satvik (simple) food to Goddess Kali, you can offer food according to your power, with full devotion and faith. If you do meditation together, this mantra will definitely be proved within a month and a half.
With the accomplishment of this mantra, you can do work for the public interest, this mantra is satvik (simple) , so do only (simple)  work, otherwise the mantra's accomplishment will be destroyed.
In this way, by chanting Mahakali Shabar Mantra, you can achieve the accomplishment of Mahakali and get her blessings.
also read
Best mantras for protection against evil spirits and ghosts